Mold Removal in Fort Eustis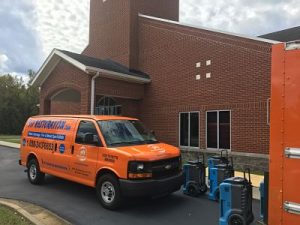 The professionals at 911 Restoration of Virginia Peninsula can help you handle a mold infestation in Fort Eustis. Our mold cleanup pros are IICRC certified to handle commercial and residential mold remediation in Fort Eustis. Techs are on-call 24/7/365, to provide you with same day mold decontamination services and a Fresh Start.
You can contact us to get help from licensed, bonded, and insured mold removal techs within 45 minutes. Techs can:
Assess Your Needs with a Mold Inspection

Work with a 3rd Party Laboratory for Mold Testing

Pack Out and Store Your Uninfested Belongings

Completely Renovate and Restore Your Property
Take the first step to completely eradicating all signs of your mold infestation by contacting us right now. Mold remediation techs can provide you with the comprehensive help you need right now.
How Long Does Mold Remediation in Fort Eustis Take?
Mold remediation in Fort Eustis involves completely wiping away all signs that a mold infestation ever occured. Depending upon the amount of mold in your property and the type of mold you are dealing with, the amount of time it takes to complete mold cleanup may vary.
You can get more information about exactly how long mold removal will take for your property with a mold inspection in Fort Eustis. The licensed, bonded, and insured mold decontamination techs at 911 Restoration of Virginia Peninsula can:
Give You a Free Visual Mold Inspection for Property Owners Only

Set Up Barriers to Isolate Mold Growth

Use Air Filters to Get Rid of Mold Spores

Work with Professional-Grade Cleaners for Mold Decontamination
Let us start addressing all of your mold cleanup needs in Fort Eustis right away. The faster you get professional help from our experienced and highly trained techs, the less overall damage mold can do to your property.
Can Mold Decontamination in Fort Eustis Prevent Future Mold Infestations?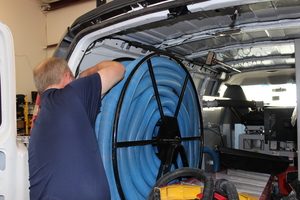 The damp, muggy weather in Fort Eustis can increase the odds that property owners will face a mold growth emergency. Even without a water damage event, like a pipe burst, this fungus could spread through your property if the humidity levels get too high.
Mold removal can get rid of all traces of your mold infestation. The mold remediation pros at 911 Restoration of Virginia Peninsula even take care of mold spores. Mold spores are incredibly small. They serve as the "seeds" of mold growth, spreading around your property and then beginning to grow.
Let us ensure your property is thoroughly clean with a final mold inspection after mold cleanup in Fort Eustis. Getting rid of all traces of a mold infestation reduces your odds that you will have a re-infestation. Note that, depending upon the circumstances in your property, mold may regrow. This is especially true if you have a room that is always damp and dark.
Our water damage restoration techs can offer you drying and dehumidification services in addition to mold removal in Fort Eustis. Find out more about how you can protect your property by contacting us now.
Servicing the cities of Fort Eustis, Grafton, Hampton, Newport News, Poquoson, Seaford, Suffolk, Tabb, Williamsburg, Yorktown, Hampton City, Hampton Roads, Virginia Peninsula, Norfolk, Chesapeake, and surrounding areas.