Water Damage and Mold Removal in Hampton City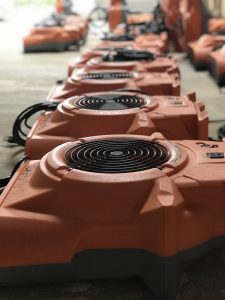 Water damage can greatly impact property owners due to the sheer devastation it brings. Damages can occur through a variety of ways when you have excess water. Different sources entails different types of responses to the disaster. Some of these sources include:
Pipe bursts

Ceiling leak

Hose leak

Toilet overflow

And more
No matter what the source is you can expect everything from your floor to your belongings to becoming damaged. If the amount of water is large enough you might even face structural damage and need flood cleanup services.
Besides the damage water can bring, it can also bring secondary damage by breeding mold. Mold only needs 24 hours in a dark and damp environment to start growing. Once the mold has spread enough, it can eat away at the organic materials in your property. Plus, since it's an allergen mold can cause health issues for some people that are susceptible even if the mold itself isn't toxic.
Emergencies can happen at any time. We understand and work according to this truth by making sure we're ready to roll 24/7/365 for our Hampton City residents. We are locally owned and operated meaning you can count on us to arrive within 45 minutes of your call ready to get to work whether you're in Fort Eustis or Poquoson.
If you need water damage restoration or mold removal services don't wait to call 911 Restoration today. We'll take care of everything from leak to flood cleanup to deliver a Fresh Start you can count on.
Water Damage From Frozen Pipes
When winter is in full effect it can get really cold. This cold has a direct impact on the well being of your pipes. When it is cold for long enough your pipes become frozen pipes. Frozen pipes cause the water within to steadily rise in pressure due to not being able to flow properly. If the pressure is allowed to build up too much, you run the risk of suffering from a pipe burst.
When you have a burst pipe, you end up with immediate flooding. Flooding is the most devastating type of water damage a property owner can face thanks to its ability to damage your property's structure itself. In addition, it is also much harder to dry out completely compared to other types of water damage.
Once the water has been turned off, we can perform our visual inspection so we can determine the best method of handling your flood cleanup and water damage restoration. We know that prompt yet effective action is the key to get your property to good as new without the risk of recurring damage.
That's why we use the latest equipment to handle your water extraction and drying. We also use infrared technology to ensure we don't miss any wet spots that can potentially cause mold contamination. Once the property is completely dry, we begin work on the repairs needed for anything damaged.
Water damage restoration is just a phone call away for our Hampton City residents. Call 911 Restoration for a Fresh Start you rely on. We're prepared to handle any complications winter might bring.
What Causes Mold Contamination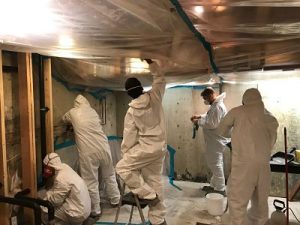 Mold is an organic substance that can be subtle and slow in its growth. It can also happen rapidly in the right environment. All that is needed for mold to prosper is a damp and dark environment. The growth can be sped up if it's also a hot environment. The easiest way to determine if you have mold is to see the mold itself, observe crumbling drywalls, or notice a pungent stale odor.
If you have mold contamination, you need professional mold removal services like the one provided by us at 911 Restoration. We use the latest equipment to contain, decontaminate, and remove all traces of mold from your property. We also make sure to handle any water restoration needed to ensure that the mold can't come back again. We don't cut corners, because we know that you need nothing less than the best in mold removal services.
Our Hampton City residents have relied on us to handle all of their emergency restoration needs from water damage to fire damage restoration, because they know that we understand exactly what concerns they have. That's thanks to our local operation. We combine our local expertise with IICRC certification, training, and national resources to deliver a truly superior experience for our customers. Call 911 Restoration today for a guaranteed Fresh Start!
Servicing cities of Fort Eustis, Hampton, Newport News, Poquoson, Seaford, Virginia Peninsula, Williamsburg, Yorktown, and surrounding areas