Water Damage Restoration in Virginia Peninsula
Weather Alert: If you are experiencing weather-related damage from the storm, call us today for emergency assistance!
911 Restoration of Virginia Peninsula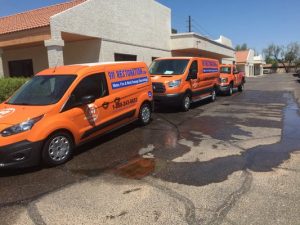 For commercial and residential property owners living in Virginia Peninsula, it is critical to always be properly prepared. Owning a property is a huge responsibility, and it is always best to be prepared for the worst. Disasters such as water damage in Newport News from a burst pipe or ceiling leak can strike anytime, anywhere. That's why knowing who to turn to is critical when times get tough.
Thankfully, 911 Restoration of Virginia Peninsula is a nationwide restoration company with local expertise from owner Damaris and his expert water damage cleanup technicians servicing Newport News and Hampton Roads region. Whether you're across town or on the other side of the Virginia Peninsula, our expert technicians will be at your location within just 45 minutes of your initial phone call to begin water damage cleanup repair and remediation immediately. Call us at (757) 942-1104 and allow us to offer you a free visual inspection.
Our Virginia Peninsula branch is locally owned and operated, giving residents peace of mind knowing that they will be receiving prompt, neighborly services. Contact 911 Restoration immediately if you are in need of water damage restoration in Virginia Beach, mold removal, fire restoration, sewage cleanup in Virginia Beach, or disaster restoration in Newport News or within the Virginia Peninsula.
At 911 Restoration of Virginia Peninsula, we offer a Fresh Start with our comprehensive selection of property damage restoration services, including but not limited to:
Whether you're a Virginia Peninsula homeowner or business owner, 911 Restoration of Virginia Peninsula is your Fresh Start! We'll communicate with you throughout the entire process, help answer questions related to insurance, and restore your property to its pre-damaged condition. One of our IICRC-certified teams is dispatched within 45 minutes of your call! Contact us today, and one of our friendly representatives will assist you in finding the nearest Virginia Peninsula location.
Water Damage Restoration
The last thing any property owner wants happening to their home or business is water damage. Whether the home flooding is the result of a tropical storm or a leaky pipe, the damage it can cause inside, underneath, and around your building can be devastating. Not every water damage restoration company in Newport News is equipped to handle such a task. That's why it's so important to know a nearby restoration company that offers comprehensive cleanup services in a swift manner.
From offering a free visual inspection for property owners only to ensuring all water is thoroughly extracted from the premise, our Virginia Peninsula water damage repair technicians will provide support and sympathy throughout the entire water damage restoration process from start to finish. They service Fort Eustis, Hampton, Newport News, and all surrounding cities in the Virginia Peninsula.
Our "Fresh Start" approach enables us to put you at the forefront of our attention. We understand that seeing your property filled with water is a harrowing time. Your mind can be racked with stressful thoughts regarding the costs of the cleanup initiative, the damage done to your belongings, and the task of getting your home or business back to normal. 911 Restoration is able to guide you through this troubling situation effortlessly by providing empathy and support when you need it the most. Call us at (757) 942-1104 and see how we can help.
Service area map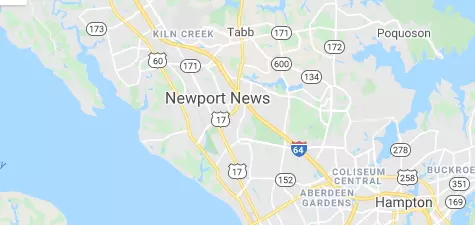 Sanitization Services & Disinfection Solutions
Just like every other community across America, Virginia has not been immune to the recent coronavirus pandemic. The CDC has recommended that everybody practices social distancing, stay at least six feet away from others, isolate themselves at home, and wash their hands for 20 seconds or more. Rest assured that our water damage restoration professionals in Virginia Peninsula follow all CDC recommendations regarding social distancing and hand washing. 
Businesses across the board, including restaurants and retailers, are closing up shop and experiencing financial trouble. During this troubling time, 911 Restoration of the Virginia Peninsula is here to help. Our experienced technicians are now offering deep cleaning and professional sanitization services in order to provide our neighbors with a clean and safe home or commercial property. Our team adheres to CDC and EPA protocols and is available 24/7/365 to give you the peace of mind you need during this pandemic.
Mold Removal After Water Damage Restoration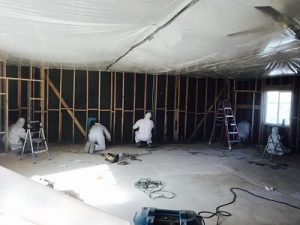 Water damage cleanup doesn't just leave behind unsightly stains and musty odors in its wake. Sometimes, the undetected damage is the most troubling. Water that has crept under carpeting and into walls can go unnoticed. Stagnant water becomes a haven for mold to reproduce and thrive. In fact, mold will start to appear just 48 hours after a flood happens. This is why it's imperative to perform mold removal if your property has been subjected to water damage.
Mold spores will root themselves on porous surfaces found inside your building where moisture is present. They then start to metabolize at a staggering rate. A small mold infestation can quickly turn into an emergency overnight.
Mold not only will eat away at any surface it is growing on, but it will also cause unwanted health problems. People who are sensitive to mold spores can experience coughing, wheezing, upper respiratory infections, and more.
We want nothing more than to keep you and your family out of harm's way. We'll swiftly find the source of your mold infestation and perform thorough mold remediation services to transform your home or business back into a safe and healthy mold-free environment.
Fire and Smoke Damage Restoration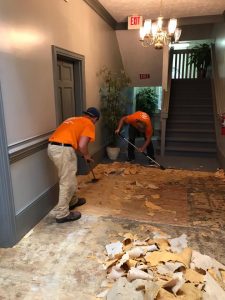 Water extraction services and mold removal aren't the only restoration services we specialize in. We also are experts in fire damage restoration in Virginia Beach.
We draw from the best industry experts, enabling us to rebuild and repair the damage. Once the flames have been put out, the real efforts begin. Smoke damage and soot can leave ugly discoloration and foul odors in your building. Additionally, smoke can cause structural damage by making your building warp. It's vital to call us immediately at (757) 942-1104.
Our Virginia Peninsula fire damage restoration team is also available 24/7/365 to get to work immediately for your fire cleanup in and around Newport News. Other benefits of working with us include:
A free visual inspection for property owners only
Licensed, insured, and bonded
Works with all types of insurance agencies
And much more!
Sewage Cleanup
If your home or business has suffered from a sewage backup, it should be considered an emergency, and action should be taken swiftly. Sewage water contains numerous toxins and can lead to illness and even death. E Coli, salmonella, and other bacteria thrive in septic water. You should never attempt to remedy a sewage backup problem by yourself. It is always best to call in professionals.
911 Restoration of Virginia Peninsula will safely and securely perform sewage cleanup efforts. We are certified and specially trained to operate the right tools to remove waste and bacteria. Our top priority is your well-being. Sewage cleanup must be performed quickly in order to ensure your family, employees, customers, or anyone else who utilizes your building remains safe.
After all, our 45-minute response time guarantees that we'll be able to get to work right away.
Disaster Restoration
Disaster can strike anywhere and at any time. For property owners in Virginia Peninsula, it is crucial to be proactive and always be prepared. If your commercial or residential property is in need of disaster restoration, 911 Restoration of Virginia Peninsula is here to lend a hand.
Whether it's flooding or a fire, we are here in your time of need. Always be on the defense and take action immediately by contacting a disaster restoration team that can help in times of trouble. We provide emergency boarding up, emergency roof repair, and emergency pack-out and storage services. Before you panic, call us at (757) 942-1104 and see how we can help.
Commercial Restoration
911 Restoration of Virginia Peninsula provides comprehensive services to include residential, as well as, commercial property owners. If your office building or retail complex has suffered from water damage or a fire, contact us today. We know how important it is to be up and running quickly. In fact, our team will perform commercial property restoration without disrupting the daily operations of your company.
911 Restoration of Virginia Peninsula is an IICRC-certified mold removal company in Hampton Roads that can reign in your fungi problem promptly.
If your property has suffered from a crisis, it's important for business owners to call 911 Restoration of Virginia Peninsula today. From flooding to fires, we do it all. Call us today at (757) 942-1104 for immediate assistance.
Serving the communities of Fort Eustis. Grafton, Newport News, Poquoson, Seaford, Suffolk, Yorktown, Hampton City, and the surrounding area.