Water Damage Restoration Services in Virginia Peninsula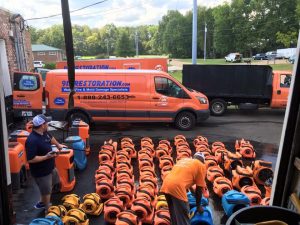 Owning commercial or residential property for the first time can be an exciting feat. It is crucial that you never sit on the problem or attempt to salvage the damage yourself. Water is tricky and can spread into unnoticed areas of your building, including under the carpet and into tiny crevices, causing other monumental problems. It is always best to call the experts. Thankfully, 911 Restoration of Virginia Peninsula can provide you with expert water damage and fire damage restoration services swiftly. Call us at 757-942-1104 and allow us to offer you a free visual inspection.
Our professional technicians are ready to take action right away and completely dry and dehumidify your property. If you are in need of water damage restoration assistance, contact our professionals immediately.
Flood Damage Repair with a Sympathetic Touch
Commercial water damage to buildings or house flooding can be a major problem. Within minutes, the water damage can take a toll on your prized possessions. If left untreated, mold can start to grow in stagnant puddles of water, causing health hazards for anyone who spends time on the premises.
Many property owners want to remediate the problem themselves, thinking that it will save them money and time. 911 Restoration of Virginia Peninsula has the knowledge and equipment to safely and swiftly deal with the issue. We are a licensed, bonded, and insured company that is an expert in the water damage restoration industry.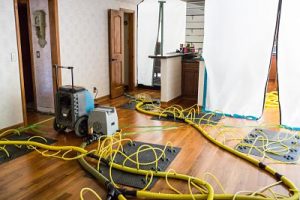 If you are a commercial property owner who experienced flooding in your apartment building or retail complex, you need a company that can repair the damage while enabling your company to carry on normal business operations. 911 Restoration is just that company. We'll promptly show up at your doorstep and carry forth a plan of action that does not disturb your daily business operations.
Our "Fresh Start" approach enables us to make each and every one of our customers our focal point. We understand that seeing your home or business flooded can lead to stress, fear, and other unwanted emotions.
Other benefits of using our services include:
A free visual inspection for property owners only
Evaluating and testing your building for any structural damage
Leak detection and repair
A free insurance consultation
Emergency water extraction
Complete drying and dehumidifying
And much more!
Mold Removal Services in Virginia Peninsula
Wherever there is a lot of moisture present, mold can start to grow. Within just 48 hours of an initial flood, mold will form. If you think mold is growing in your building, you must get it checked out right away. Call us at 757-942-1104 and see how we can help.
911 Restoration is a mold removal expert. We are IICRC certified and can perform professional mold testing, inspecting, and mold removal in Norfolk services. We want to keep everyone that enters your building safe. This includes your family, employees, tenants, and customers.
If your commercial or residential property suffered from water damage and now is in need of mold removal services, contact 911 Restoration locations right away. We are available 24/7/365 and will provide you with the best mold removal and water damage restoration services in the industry.
Contact us today to start the water damage restoration process immediately. We service Fort Eustis, Hampton, Newport News, and all surrounding cities.
Serving the communities of Fort Eustis. Grafton, Newport News, Poquoson, Seaford, Suffolk, Yorktown, Hampton City and surrounding area.