Water Damage and Mold Removal in Newport News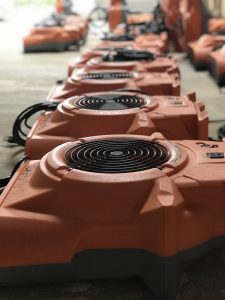 Water damage can happen at any time and from a multitude of sources. Everything from your appliance hose to a possible ceiling leak can create a need for water damage restoration. No matter the source, you can count on the damage to your property to be severe. Even smaller amounts of water can ruin your floors, appliances, and other items. However, larger amounts of water can actually go beyond your walls to damage the structure of your property itself.
In addition to the direct damage, water can also cause additional damage due to its ability to provide a perfect breeding ground for mold. Once 24 hours has passed, mold and fungi can begin growing and spreading. If left unchecked, mold can eat away at the organic materials of your property especially if already damaged beforehand from the water. Plus, it can cause breathing problems along with headaches making it a health risk for the inhabitants within the property.
We strive to provide the best customer service possible, and we accomplish that by being available 24/7/365 for the residents of Newport News City. We know that water damage can happen at any time. That's why we guarantee to be at your property within 45 minutes of your call no matter if you live in Fort Eustis or in Williamsburg.
If you notice water damage, need mold removal services, or have suffered from pipe bursts then call 911 Restoration for your Fresh Start today. We'll take care of your water damage restoration from start to finish.
Water Damage Restoration Process
Damage to your property can be costly and time-consuming but it doesn't have to be. Thanks to our many years of experience we have the water damage restoration process down to a science. Regardless of the source of your damage, we start with our visual inspection to determine the scope and scale of the damage. We'll take care of you from leak to flood cleanup.
After our inspection, we get you to sign off on our action plan and get to work. We use up to date water extraction equipment and dryers to get your property dry as a bone. Once the water has been removed, we begin work on any repairs you need to get your property to be good as new.
We know that you're more than likely not prepared for the cost of water damage restoration, which is why we use our experience with insurance companies to help you with your insurance claim. If you choose to do so, we'll even file the claim on your behalf so you can trust that it's done right the first time.
Call 911 Restoration today if you find yourself needing water restoration services. We guarantee to get your property good as new. It's our Fresh Start guarantee.
Navigating Mold Remediation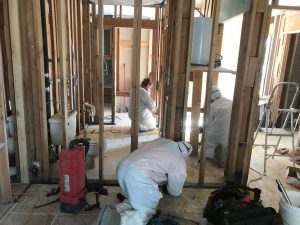 When water is allowed to sit for 24 hours or more, chances are that mold has started to grow and spread on your property. Seemingly harmless at first glance, the mold is actually destructive to not only your property but to your health. The worst part of about a mold infestation is that it is usually subtle in its growth making it tricky to stay on top of. However, there are some signs to be aware of that can help you determine if you have mold.
These signs include:
Crumbling drywall

Pungent stale odor

Rotted wood
If you discover mold on your property, don't try to clean it yourself. The mold spores can become airborne and expand the area of contamination. That's why you need professionals to handle your mold removal. We use the latest containment measures and vapor barriers to keep the mold from spreading.
Once contained, we begin the decontamination and removal of the mold. Only commercial cleaners and detergents will get the job done right the first time, which is why we use the strongest ones available in our cleaning efforts. In addition, we also offer mold testing and sampling for any customers concerned about their health. Some types of mold can be toxic, and we do everything in our power to ensure your good health throughout the remediation process.
Our local operation helps us guarantee that we can handle everything that comes up for our customers because we live here too. Our technicians are IICRC certified and receive additional training to tackle every aspect of your emergency restoration. We'll handle your flood cleanup, mold removal, and check to make sure you don't have frozen pipes in the middle of winter.
We offer competitive pricing with national level resources to deliver an experience that can't be beaten. Call 911 Restoration today for the Fresh Start you need.
Servicing cities of Fort Eustis, Hampton, Newport News, Poquoson, , Seaford, Virginia Peninsula, Williamsburg, Yorktown, and surrounding areas.