Sewage Cleanup in Virginia Peninsula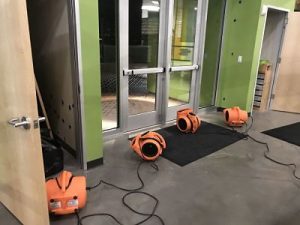 A sewage backup is one of the worst plumbing nightmares that a residential or commercial property owners living in Virginia Peninsula can experience. While a burst pipe or ceiling leak can be a problem, a sewage backup issue can quickly escalate into an emergency situation. It's critical to seek sewage cleanup services from the experts instead of attempting to remediate the problem yourself if the issue strikes.
Thankfully, 911 Restoration is more than equipped to handle your sewage backup problem. We have the technicians and tools in place to effectively and safely provide you with professional sewage restoration services right away. With a 45-minute response time and 24/7/365 availability, we're ready to get your home or business back on track. Call us at 757-942-1104 and allow us to offer you a free visual inspection.
Sewage Cleanup Services with a Sympathetic Touch
We can pinpoint the exact cause of your sewage mishap. But typically a sewage backup occurs because of:
Wet weather
Flooding occurring around or beneath your building
Broken or blocked pipes
Root infiltration
Structural damage
Regardless of how your sewage backup problem started, it's imperative to not perform any sewage cleanup efforts yourself. Sewage water poses many health risks and can promote the spread of illness and disease. In fact, the National Resources Defense Council recently reported that 2 million people get sick from sewage contamination exposure every year. Additionally, sewage can contain pesticides and fungi.
Some of the contaminants found in sewage water can include:
Salmonella – Which causes stomach cramps
Hepatitis –  Which can lead to liver failure and infection
E. Coli – Which may cause death
Coming into contact with any of the aforementioned contaminants can cause severe illness and put you in the ER. This is why it is so important to have a reputable and professional sewage cleanup service company handle the job.
911 Restoration is a nationwide team of industry experts. We thoroughly understand the science and skill that goes behind a successful sewage cleanup effort. We are a bonded, licensed, and insured company that hires only the best technicians in our field.
Safety is our top priority when performing a sewage cleanup. This is why we have NIOSH-approved respirator masks and top-notch hazmat suits to get the job done securely. We also set up an innovative ventilation system to rotate clean air, so that you never ever have to come into contact with the smell that a sewage backup can cause.
Not only are we safe, we're sympathetic as well. We want you to be walking into a Fresh Start after our sewage cleanup services are completed. That means providing legendary customer service for each and every one of our clients. Call us at 757-942-1104 and see how we can help you.
Other benefits of working with our team include:
A free visual inspection for property owners only
A free insurance consultation
Leak repair
Burst pipe repair
Complete drying and dehumidifying
Total water extraction
And much more!
If you are in need of sewage cleanup services, give us a ring today at 757-942-1104!
Water Damage Restoration Available Around the Clock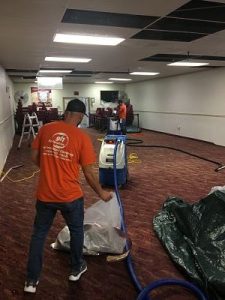 911 Restoration provides much more than sewage cleanup – we also provide water damage restoration Virginia Beach. Whether from a flood in the basement or a ceiling leak, we're there for you when things get wet.
Water damage restoration is needed promptly if your home or business experiences flooding. Water can quickly take a toll on your possessions, and unchecked water damage can lead to health complications due to mold growth.
This is why it is imperative to call in a team of experts right away. 911 Restoration of Virginia Peninsula is available for you 24/7/365. Whether it's day or night, rain or shine, we'll be at your doorstep within 45 minutes of your first phone call.
Never be embarrassed or afraid to call us. We understand that water damage restoration isn't a thing you expect. It just happens. And timing is everything when it comes to this disaster.
We're a national company providing neighborly services in a timely manner. Water damage restoration is just one of our many specialties and we want to provide you with the best services around.
If you have experienced a sewage backup or are in need of water damage restoration, contact 911 Restoration right away. We look forward to you a Fresh Start. We service Fort Eustis, Hampton, Newport News and all surrounding cities! Call 911 Restoration locations at 757-942-1104.