Mold Removal in Tabb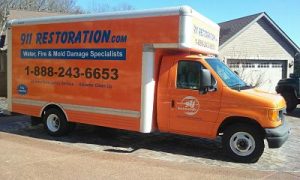 Have you discovered signs of mold in your home or business in Tabb? You can remove this fungus and protect your health by contacting 911 Restoration of Virginia Peninsula right now. Our IICRC certified mold remediation techs are on-call 24/7/365. Contact us around the clock to get a Fresh Start. We can help you with commercial and residential mold infestations by:
Providing You with a Mold Inspection and Mold Testing

Packing Out and Storing Your Uninfested Belongings

Repairing Water Damage That Led to a Mold Infestation

Handling Mold Decontamination and Odor Removal
You can reach out to us at the first sign of mold growth. Let us begin mold cleanup in Tabb when you need it, so you can move forward with peace of mind and a fully renovated and restored property.
What Takes Place During Mold Remediation in Tabb?
It's natural to wonder what to expect during mold remediation in Tabb. Let's go over the general steps of this process, so you know what our mold removal experts will do to erase all signs of a mold infestation in your home or business. Techs will:
Start by Performing a Mold Inspection

Work to Isolate Mold with Plastic Sheeting and Negative Air Machines

Remove Mold Spores with Air Filters

Handle Mold Decontamination with Professional-Grade Cleaners

Complete a Final Mold Inspection to Ensure Your Property is Restored
911 Restoration of Virginia Peninsula is a full-service property restoration company. This means that Tabb mold cleanup crews can also repair any water damage that may be tied to your mold infestation. Let us focus on water damage restoration and mold removal in Tabb so your property can be returned to better-than-new condition.
Our property restoration techs can even help you handle your insurance company after a mold infestation. Mold remediation crews have experience dealing with all major insurance companies, which can make mold eradication less stressful for you.
How Long Does Mold Cleanup in Tabb Take?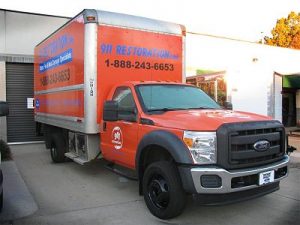 The exact amount of time necessary for total mold cleanup can vary based upon the type of mold you are dealing with and the distance the mold has spread into your property. All of the mold removal techs at 911 Restoration of Virginia Peninsula are dedicated to completing mold remediation in Tabb as quickly as possible.
Techs can arrive at your property within 45 minutes of an emergency call to perform a mold inspection in Tabb. Once the results of your inspection are in, a personalized mold decontamination plan can be completed.
The end goal of mold decontamination in Tabb will always be erasing all signs of a mold infestation. Get the help you need from our licensed, bonded, and ensured mold removal pros. Contact us immediately and you can move forward with a Fresh Start after you discover any signs of mold growth.
Servicing the cities of Fort Eustis, Grafton, Hampton, Newport News, Poquoson, Seaford, Suffolk, Tabb, Williamsburg, Yorktown, Hampton City, Hampton Roads, Virginia Peninsula, Norfolk, Chesapeake, and surrounding areas.