Professional Crawl Space Cleanup Service Near You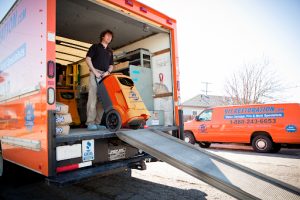 Professional crawl space cleanup service near you may just be one of the best solutions to put your property back in the top shape it used to be.
Crawl spaces offer the convenience of extra storage but can also be an open door to property headaches later down the road.
Due to the damp and dark environment of crawl spaces, this makes you and your property a vulnerable target of a buildup of junk, flooding, mold growth, structural decay, and uninvited animals.
With Virginia having average annual precipitation levels of 44 inches higher than the US average – Virginia Peninsula property owners are more prone to crawl space water damage, moisture odor, and mold growth.
Fortunately, 911 Restoration of Virginia Peninsula delivers IICRC-certified crawl space restoration near you with a Fresh Start.
With the geographical location of where the Virginia Peninsula is located, many properties require crawl space encapsulation to combat the heavy rainfall and humidity that occurs in the area. Consider a crawl space encapsulation as a long-term investment that can save your property from further water and/or mold damage.
We serve areas of the Virginia Peninsula including Newport News, Hampton, Williamsburg, Poquoson, Smithfield, and Yorktown

Fast and reliable service with a 45-minute guarantee and same-day service

Complete water extraction, drying, dehumidifying, and restoration with advanced tools

Stubborn mold, mildew, and odor control

Moisture insulation, barriers, and encapsulation control
If you suspect your property is suffering from an odor problem from your crawl space, give 911 Restoration of Virginia Peninsula a call at (757) 942-1104. We'll be there within the next 45-minutes for a free inspection with the best crawl space cleanup service near you.
Professional Crawl Space Restoration You Can Trust From an IICRC-Certified Team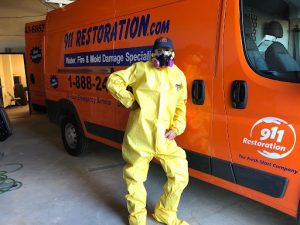 Crawl spaces are often overlooked by property owners because these spaces are often built out of view with awkward access. Neglecting your crawl space can harm your property's structural integrity just as much as ignoring other property maintenance duties.
Maintaining your crawl space is just as important as any other space on your Virginia Peninsula property.
Top reasons why you need a professional to deep clean and encapsulate your crawl space:
Optimized storage solutions

Pest, disease, and animal control

Structural foundation weakening

Prevent natural disasters from flooding your property

Allergy and airborne health concerns due to poor insulation and air quality
These sneaky threats often lead to bigger cans of worms for Virginia Peninsula property owners. Imagine a growing mold infestation from flooded murky waters without you even knowing about the issue at hand. Or when unsolicited nightly guests like critters, bats, raccoons, and rats make your crawl space their home. Dangerous fumes from animal droppings or mold can take a turn for the worse on your property's structure, or even worse – your health.
Did you know that 40% of the air in your home that you breathe originates from your crawl space and attic?
Why leave the state of your property in neglect and by making it prone to dust, pathogens, and degradation?
911 Restoration of Virginia Peninsula's IICRC-certified team will make your life as a property owner easier with worry-free crawl space cleanup service near you.
Insulation removal and replacement – heat duct, air duct sealing, water pipe

Replacement of damaged property structure

Deep cleaning, debris removal, odor removal, and animal exclusion

Emergency pack-out and storage services

Complete water extraction, drying, & dehumidifying
It's simply not worth it leaving your property in a state of uncertainty by not knowing the status of its crawl space health.
Get assurance for the sake of your own sanity and health with a quick, easy, and fast diagnosis from the experts at 911 Restoration of Virginia Peninsula.
How to Get a Clean Crawl Space Near Virginia Peninsula With a Fresh Start
Call our friendly customer service team at (757) 942-1104 to get your free crawl space property inspection.

Our IICRC-certified technician will be at your property within the next 45-minutes to give you a complete breakdown of the best possible solution after assessing your property.

We'll do the heavy-lifting and pack your belongings to safety to get ready to use our state-of-the-art water pressure cleaning, drying & dehumidifying machines, and heavy-duty chemicals (safe, eco-friendly, and non-toxic).

We will install new insulation and vapor barrier to protect your property for the peace of mind you deserve.

Your new crawl space will be free of damaged structures, animal droppings, dust, infested water, mold, and any airborne illnesses.

Have a stress-free billing experience while we take care of all communications with your insurance provider. We also work with all insurance companies and perform direct insurance billing.
Getting a Fresh Start is that easy.
Why choose 911 Restoration of Virginia Peninsula as your next crawl space cleanup service provider?
At 911 Restoration of Virginia Peninsula, it's our goal to make your home better than new with a Fresh Start. With unmatched service, utmost professionalism, and a fresh winning mindset to get you across the finish line with a bright future full of opportunities – our beloved customers always come first.
Whether you're in the Virginia Peninsula areas of Newport News, Poquoson, or Smithfield – you can finally live in harmony in the space of your own home. As a complete restoration provider, we also tackle water damage restoration near Hampton, fire damage restoration near Williamsburg, and mold removal near Yorktown.
Discover a Fresh Start from a team of IICRC-certified experts at 911 Restoration of Virginia Peninsula with crawl space cleaning, insulation removal, and replacement installation.
Book your appointment now by dialing (757) 942-1104 and speak to our friendly customer service team to get started!