Water Damage And Mold Removal In Fort Eustis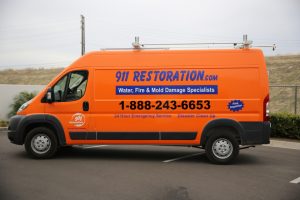 A water damage emergency often comes out of nowhere. A pipe bursts at all hours of the night. Sewage backs up into your basement in the middle of a typical Virginia storm. Flooded basement, ceiling leak, roof damage from an ice dam…you could need water damage restoration at any time for any reason.
That's why you'll always find 911 Restoration of Virginia Peninsula standing by, ready to take your call. Our friendly water damage restoration staff is on hand 24/7/365. No matter when you call—whether it's noon on a Monday or midnight on New Year's Eve—you can expect a flood cleanup crew at your door within 45 minutes.
The water removal experts have been handling water damage restoration in Fort Eustis for a long time. They know the stresses local property owners deal with, especially factoring in the frequency of wet, rainy weather. Each one of our water damage restoration workers is dedicated to delivering peace of mind by anticipating every concern. They work fast to minimize your costs and damages. They are prepared to repair everything from roofing to drywall. They even offer a free insurance consultation and file your claim for you, ensuring that you get every benefit you deserve.
911 Restoration of Virginia Peninsula is licensed, bonded, and insured. Every professional on staff is IICRC certified and fully trained to deliver water damage restoration service, including mold inspection and mold remediation.
A pipe burst may have unleashed a flood of worries, but a single call to 911 Restoration is all it takes to feel back in control of your property. Reach out now for fast, expert water damage restoration.
24 Hour Emergency Water Cleanup In Fort Eustis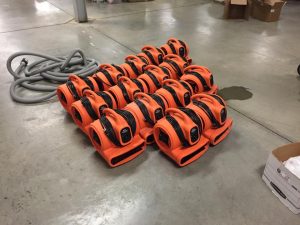 You probably don't need anyone else to tell you what a basement flood, sewage backup, or roof damage could mean for your home or business. Most likely, you've already begun calculating the potential damages, from rotted floorboards to mold growth.
The flood cleanup crew at 911 Restoration believes in treating your water damage emergency as if it were their own. They are fully dedicated to their 45-minute arrival guarantee, knowing full well that that longer you wait on water removal, the worse your damages will be. You can expect a broad range of emergency services, including storm repair, boarding up, roof repair, and leak detection. They even pack out and store your unharmed belongings in an effort to prevent any further losses during flood cleanup.
Water damage restoration may mean many things depending on your unique situation. The cleanup workers offer a free visual inspection for property owners upon arrival, so you are fully aware of the steps they need to take to fully restore your home or business. In most cases, they begin with water or sewage removal and structural drying. They also test the structures of your home for weakness and conduct a thorough mold inspection. While their next steps depend on the damages they discover, you can rest assured they are ready to restore your property no matter what it takes. They remove and replace contaminated carpet, repair roof damage, and handle mold remediation.
Call on 911 Restoration of Virginia Peninsula for flood cleanup in Fort Eustis. You get far more than water removal. You get a property that feels better than new.
A Certified Mold Removal Company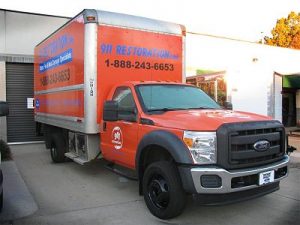 The water damage restoration specialists at 911 Restoration include mold inspection as a necessary part of every flood cleanup job. Why?
Mold is an extremely common result of water damage, especially in Fort Eustis, where muggy summer weather promotes mold growth. While mold can seem relatively harmless, the health of your property depends on prompt mold remediation. Mold literally eats away at the structures of your home. It also poses a threat to your health if too much time passes without mold decontamination.
Many home and business owners fall into the trap of thinking of mold removal as something they can manage themselves. The truth is, mold decontamination is a tricky and potentially dangerous process if it's not handled by a professional. Because many varieties of mold can be toxic, you risk kicking toxins up into the air and into your lungs when you try to manage mold removal on your own.
The water damage restoration crew at 911 Restoration is staffed with IICRC certified mold decontamination experts. They know how to conduct a thorough mold inspection to make sure they've uncovered every trace of hazardous growth in your home. And they have the professional tools needed to handle mold removal safely and permanently.
From pipe bursts to basement floods, you can count on 911 Restoration for comprehensive water damage restoration and mold remediation in Fort Eustis. Today's disaster may feel like the end of the world, but our expert technicians will turn this mess into a Fresh Start.
Call today.
Servicing the cities of Chesapeake, Fort Eustis, Grafton, Hampton, Hampton City, Hampton Roads, Newport News, Poquoson, Seaford, Suffolk, Tabb, Virginia Peninsula, Williamsburg, Yorktown, and surrounding areas.