Water Damage and Mold Removal in Grafton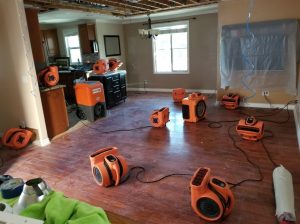 If you've been hit by a pipe burst, basement flood, sewage backup, or any other form of property water damage, your mind is most likely reeling. Will your flooring be destroyed? Is the carpet contaminated? Who will repair the roof? How quickly can you get the water out of your home? Who do you call for mold inspection in Grafton? How much will this set you back?
Take a deep breath. Pick up the phone. And let 911 Restoration of Virginia Peninsula do the worrying for you.
The water damage restoration technicians at 911 Restoration know what you're going through, and they know how to put your mind at ease with immediate availability and comprehensive expertise. They've been handling water damage restoration in Grafton for long enough to know how the region's heavy storms and wet winters can cause stress for property owners. They act fast and communicate clearly so you get through this process with total understanding and minimal expense.
911 Restoration is a 24-hour emergency water cleanup company. That's 24 hours a day, 365 days a year. We even guarantee a 45 minute arrival time.
The company is licensed, insured, and bonded, and all technicians are IICRC certified in water damage restoration and mold remediation. They come prepared for full-service restoration. This means water extraction, structural drying, damage repair, and mold inspection and removal. By the time your flood cleanup crew leaves, your commercial or residential property will be better than new.
Wondering if your homeowners insurance covers water damage? A flood cleanup staff member will even walk you through our free insurance consultation and help you file a claim so you get the coverage you are entitled to.
Water damage is stressful, but you don't have to go through it alone. Call 911 Restoration of Virginia Peninsula, your best ally in property restoration.
Immediate Response For Your Water Damage Emergency
With 911 Restoration, you get a flood cleanup crew that takes your water damage emergency as seriously as you do.
From the moment they arrive at your home or business, these technicians are fast and focused. They work quickly to pack out and store any items that managed to avoid damage in the pipe burst or property flood. They extract water swiftly and bring in professional fans to fully dehumidify the area in the hopes of avoiding mold contamination or structural weakening. If there is any damage, the water damage restoration staff will repair it. It doesn't matter if it's a damaged roof, rotted drywall, or contaminated carpet. The flood cleanup professionals have both the tools and knowledge necessary to tear out and replace damages, leaving your property as strong as it was the day it was built.
Every flood cleanup effort concludes with a free visual mold inspection for property owners to ensure your water damage incident hasn't led to mold growth. If a mold colony is found, your IICRC certified experts handle mold decontamination as well.
With 911 Restoration, you can count on service that is fast and complete. Our goal is to leave both you and your property feeling stronger than ever.
From pipe burst repair to sewage related cleanup to mold remediation, let 911 Restoration of Virginia be your first choice for emergency service. Call us today.
Expert Mold Removal In Grafton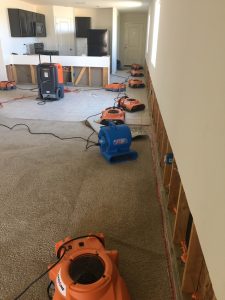 The water damage restoration experts at 911 Restoration make mold inspection a part of every flood cleanup job. If you've already called in another company for water damage restoration and they skipped this all-important step, we encourage you to reach out to the mold remediation technicians of 911 Restoration.
Even minor water damage incidents can cause mold to form in your property. Mold spores only need 24-48 hours to flourish into a mold colony. If this happens, you need immediate, expert mold removal. Although mold seems like nothing more than an unsightly nuisance, it can wreak havoc on the structures of your home or business. Even worse, toxic varieties such as black mold can release mycotoxins into the air that may be breathed in by humans and pets. This leads to a broad range of health issues, from dizziness and headaches to heart problems.
Mold removal should always be handled by certified mold remediation specialists. The staff at 911 Restoration are fully trained to manage mold decontamination in a way that is both safe and thorough, avoiding the spread of mycotoxins during the process and preventing future growth.
Whether you need water damage restoration or mold remediation in Grafton, you can trust the experts at 911 Restoration to be thorough and caring from the moment they show up to the moment they drive away.
Call 911 Restoration of Virginia Peninsula for a Fresh Start.
Servicing the cities of Chesapeake, Fort Eustis, Grafton, Hampton, Hampton City, Hampton Roads, Newport News, Norfolk, Poquoson, Seaford, Suffolk, Tabb, Williamsburg, Yorktown, Virginia Peninsula, and surrounding areas.