Water Damage and Mold Removal in Seaford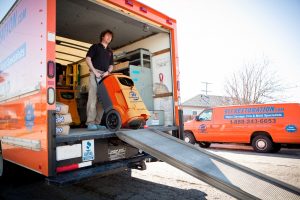 For a property owner who has worked hard to maintain and protect their home or business, a water damage incident can feel like an out-of-nowhere invasion. From storm damage to pipe bursts, when water floods your property and threatens major structural damages, you may feel overwhelmed and frustrated.
That's why our number one goal at 911 Restoration of Virginia Peninsula is to take the full burden of water damage restoration and mold removal off your shoulders so you can breathe easy.
The IICRC flood cleanup technicians have handled every type of water damage restoration in Seaford. Considering the region is often rocked by heavy rainfall, tropical storms, and increasingly wet winters, these experts have seen it all. They are highly trained and fully prepared to repair every form of damage. They remove water from carpet, completely dry the sponge-like concrete in your basement, repair floorboards and drywall, and even take care of mold inspection and mold remediation.
Moreover, because water damage often comes crashing into your world at the worst possible moment, a flood cleanup crew is always on hand, 24/7/365. They even guarantee a 45-minute arrival time, so you don't have to watch the minutes tick by while you wait for water damage restoration.
If you're overwhelmed by a pipe burst, roof damage, or any other kind of water damage, we promise that feeling won't last long. Call 911 Restoration of Virginia Peninsula. Relief will be there in 45 minutes or less.
Commercial And Residential Water Damage Cleaning In Seaford
No matter what type of property you own, you can count on 911 Restoration for 24-hour emergency water cleanup.
The water damage restoration staff is fully trained to remediate water disasters and handle repairs in every type of structure, from homes to office buildings and beyond. No matter who you are, they respond to your call for flood cleanup and mold inspection immediately.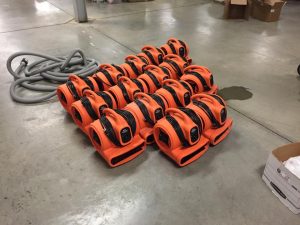 When water damage restoration specialists arrive, they offer a free visual inspection for property owners and set to work packing out and storing any unharmed items. The flood cleanup process includes water extraction, structural drying, and sanitation if necessary. They conduct structural testing to ensure your property is still sound after your pipe burst or water damage, and they repair every surface and every material that has been destroyed by the presence of water.
One particularly important step in the water damage restoration process is mold removal. Water damage frequently encourages mold growth. If you develop an infestation on your property, you are at risk of further surface damages, not to mention health problems such as allergies, headaches, respiratory issues, and even heart problems.
The water damage restoration crew take these risks very seriously. After they've completed flood cleanup, they conduct a full mold inspection. If they find growth on your property, they follow up with mold decontamination.
Because certain varieties of mold are highly toxic, it's imperative to have a certified professional handle mold removal. Our mold remediation experts can recognize the more dangerous varieties during mold inspection. They communicate clearly with you so you understand the risks involved and procedures necessary for mold decontamination. Then, they handle with mold removal with the utmost care to avoid spreading spores and toxins throughout your property.
Whether you're a homeowner or business owner, whether it's a pipe burst or ceiling leak, whether you need flood cleanup or mold remediation in Seaford, 911 Restoration is the company to call.
Reach out today for full service restoration.
Will Homeowners Insurance Cover Water Damage?
If you need water damage restoration, the big question on your mind is probably: "What is the cost of water damage?" That answer can vary significantly depending on the extent of your damages, any follow-up services needed such as mold remediation, and—of course—how much your insurance covers.
At 911 Restoration of Virginia Peninsula, water damage restoration staff are motivated to help you get through this process and back on your feet with as little expense as possible. That's why they offer emergency service to minimize damage. It's also why they work with every insurance provider and offer you a free insurance consultation.
A friendly staff member will look over your insurance policy and help you make sense of which services are covered. They assist you with inventory and loss itemization, file your claim for you, and even bill your provider directly.
911 Restoration wants to be more than your go-to company  for water damage restoration and mold inspection in Seaford. Our staff wants to be your ally in full property restoration, making your home or business better than new at limited cost.
Call today so our dedicated crew can set to work on your Fresh Start.
Servicing the cities of Chesapeake, Fort Eustis, Grafton, Hampton, Hampton City, Hampton Roads, Newport News, Norfolk, Poquoson, Seaford, Suffolk, Tabb, Williamsburg, Yorktown, Virginia Peninsula, and surrounding areas.