Water Damage and Mold Removal in Tabb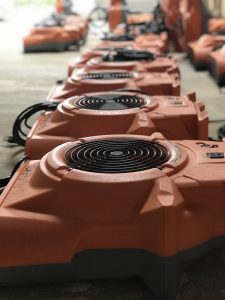 Tabb is a beautiful community. Unfortunately, it's also a region frequently hit by violent storms and cold winter weather. This means local property owners often face inconvenient or even devastating water damage, including pipe bursts and roof damage.
At 911 Restoration of Virginia Peninsula, we know all too well how overwhelming water damage can be. So our water damage restoration technicians take every measure to ease your stress and deliver expert service urgently and at limited expense to you.
No matter when your water damage incident occurs, you can count on 911 Restoration to be at your door within 45 minutes. That's their guarantee. Call any time of the day or night. Call on weekends and holidays. No matter when you need flood cleanup, these experts are there for you.
They are IICRC certified and trained to handle water damage restoration in Tabb, no matter what kind of water damage you're facing. They handle water extraction, structural repairs, mold inspection, and mold remediation. This crew also takes extra steps to ease the cost of flood cleanup and mold removal. No matter who your insurance provider is, 911 Restoration works with them. And you can count on a free insurance consultation so you know exactly what kind of coverage to expect before you get too deep into the water damage restoration process.
From the moment your call comes in, the professionals at 911 Restoration of Virginia Peninsula prioritize your peace of mind above all else. This means an immediate response, thorough and comprehensive service, and compassionate care.
They know what you're going through, and they know how to make the process easier on you and your wallet. For expert mold remediation and flood cleanup in Tabb, call 911 Restoration of Virginia Peninsula today.
Emergency Flood Cleaning Service In Tabb
You likely don't need to hear the list of damages that could happen to your property without emergency water damage restoration. In fact, if you've been watching your home or business steadily fill with water after storm damage, a sewage backup, or a pipe burst, you've probably already calculated the potential for long-term damages.
With 911 Restoration, you get 24-hour emergency water cleanup, which means immediate peace of mind. You quickly see your own urgency reflected in the efforts of our water damage restoration professionals. No matter what emergency service you need—boarding up, storm repair, leak detection, water extraction—this crew will work at top speed to make sure your property suffers as little damage as possible.
The flood cleanup crew also emphasizes comprehensive service. As a company, we pride ourselves on a Fresh Start mentality. That means every staff member approaches a new challenge as an opportunity to begin again, stronger and better than ever. With this in mind, your dedicated water damage restoration crew seek to leave your property in better-than-new condition, making this short-term disaster a long-term advantage.
After removing the water and fully drying out the area, cleanup technicians test for structural damage and repair any surface that is weak or otherwise destroyed. They also conduct thorough mold inspection to be sure this water damage incident doesn't lead to mold on your walls, floors, or ceiling. If you do have a mold infestation, the flood cleanup team also handles mold removal.
By the time they leave your property, you'll rest easy knowing your property is clean, dry, and fortified against any long-term effects from your pipe burst, leak, or basement flood.
911 Restoration of Virginia Peninsula is more than a water extraction company. They're a long-term solution. Call today.
Removing Mold In Your House Or Business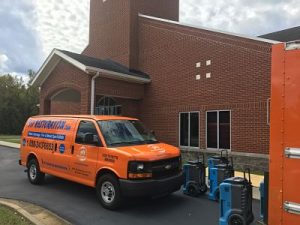 Water damage and mold infestation all too often go hand-in-hand. That's why water damage restoration technicians follow every flood cleanup job with a thorough mold inspection.
Mold is a sneakily insidious invasion for any property. A thriving colony can weaken your structures and expel mycotoxins into the air, posing a threat to your health as you breathe them in. If you've already had water damage and received service from a flood cleanup company that doesn't handle mold remediation, it's in your best interest to reach out to 911 Restoration for a mold inspection.
If you know you have an infestation, resist the urge to handle mold removal yourself. Household cleaners cannot truly get rid of the problem, especially if the surface where the mold is growing still holds moisture. Mold remediation professionals are needed for structural drying to ensure the growth does not return. Not to mention, scrubbing at a colony will kick mycotoxins into the air and into your lungs. The safest option for you, your family, and your customers is to seek out a certified mold remediation company like 911 Restoration.
Every water damage incident is unique, and your specific needs may vary. However, one thing is certain, 911 Restoration of Virginia Peninsula has you covered no matter what.
For compassionate, expert water damage restoration and mold removal in Tabb, call 911 Restoration.
Servicing the cities of Chesapeake, Fort Eustis, Grafton, Hampton, Hampton City, Hampton Roads, Newport News, Norfolk, Poquoson, Seaford, Suffolk, Tabb, Williamsburg, Yorktown, Virginia Peninsula, and surrounding areas.