Fire Extinguisher Series – Class F Extinguishers & How to Clean Up After Them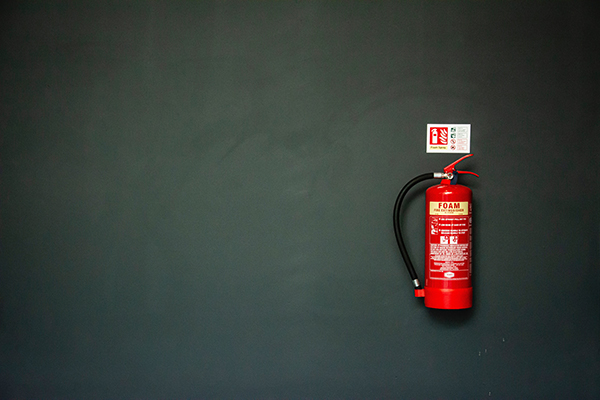 Class F fires are the fires whose combustible material is derived from cooking products, for example, vegetable or animal oils and fats. Due to its liquid state, this material could belong to Class B, but its source of origin and high temperature means that it deserves a category in its own right.
Here we explain what Class F fires are, which extinguishers are suitable to put out such a fire and how to clean up after class F fire extinguishers!
Class F Fire Extinguishers
A class F fire is the one that arises from the use of cooking ingredients (vegetable or animal oils and fats) in kitchen appliances. 
Class F Fire extinguishers, designated as class 'K' fires in the United States, are designed to put out fires caused by animal or vegetable oils and fats and are specifically recommended in kitchens.
When purchasing a fire extinguisher for the kitchen, we must ensure that its label reflects that it is suitable for Class F fires. This type of extinguisher is charged with a water solution with additives plus the propellant, usually nitrogen, a wet chemical fire extinguisher. When unloading on a fire caused by the combustion of fat or oil (the most common in a kitchen), a layer of foam is generated on the fuel that insulates and cools it, putting out the fire preventing re-ignition.
The extinguishing agent is based on Potassium Acetate, which has a low PH and an excellent capacity to combat difficult and hot fires due to its cooling effect. This type of fire extinguisher can be used in fryers, grills, griddles, charcoal grills, volcanic stone, gas-electric, etc.
The fine vaporized cloud that comes out of the extinguisher prevents the oil from splashing or igniting, attacking only the surface of the fire. 
Potassium acetate-based extinguishers for class F fires were created to extinguish vegetable oil fires in fryers in commercial kitchens or grease fires in industrial stockpiles or in restaurants or industrial kitchens. The solution comes out sprayed.
The spray-wet chemical fire extinguishers are designed to protect all areas that contain risks from Class A (solid fuels), Class B (liquid fuels), Class C (energized electrical equipment) and the new Class F (commercial kitchens) fires.
Following the provisions of the regulations and the conclusions obtained from the tests to which this equipment is subjected, powder or CO2 fire extinguishers are not to be used on class F fires. Furthermore, they could pose a danger and aggravate the consequences of the fire.
 We highlight some of the advantages of wet chemical fire extinguisher fire extinguishers:
Its active compounds are water and 100% biodegradable additives that nontoxic and do not harm the environment.

They have approved efficacy for class A and B fires, which allows them to be used, in most cases, to replace powder ones.

The agent used in these extinguishers does not damage the items that come into contact with it.

It is easier to clean as compared to the powder extinguishers.

It does not generate a low visibility environment in close spaces as a powder extinguisher does

It does not pose any risk of suffocation or breathing difficulties, unlike CO2 and powder extinguishers.
The most important step in using a fire extinguisher, regardless of the fire class, is removing the combustible material. When we are faced with a fire, we sometimes forget this essential step. When we locate a fire, we have to look at the combustibles present near the fire that could fuel the chain reaction. If we manage to keep them away, it is likely that the fire will be left without combustible material and will go out on its own. This is the technique used to form firebreaks in forests that are zoned to limit the spread of fires.
How to Clean Up After Class F Fire Extinguishers
The superior fire fighting ability of the Wet Chemical agent is aimed exactly where you need it leaving no residue to clean up. However, to clean up after a fire, you must:
first of all, turn off all fuel sources

wear gloves and a mask for protection

Mix hot water with soap and scrub to clean up any residue

Rinse off the scrubbed surface

Ventilate
On a daily basis, the kitchen operator must verify that the cylinders are perfectly pressurized and that the location of the protected devices is not altered. Every six months, a specialist must perform preventive maintenance routines to ensure the correct state of the system.
This is how you use and clean up after using class F fire extinguishers. Although wet chemical extinguishers leave no residue, it is recommended to seek the help of professional restoration services to clean up the damage of Class K fires.
If you're looking for a fire damage restoration service in Virginia Peninsula or its surrounding area, contact 911 Restoration of Virginia Peninsula. The 911 Restoration of Virginia Peninsula professionals are IICRC certified and trained in restoring and cleaning property damaged by fire and smoke. Their Virginia Peninsula team is a call away and ready to get to work immediately. Call at (757) 942-1104 for a free visual inspection of your property, or visit their website for more information.