How to Safely Re-Enter Commercial Property After Flood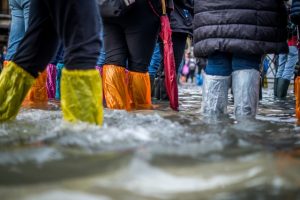 The time after a natural disaster can be extremely upsetting. You have to evacuate and think about the cleanup process, too. The thought that you have to leave your property unguarded can also profoundly affect your mental health.
If your commercial property gets flooded, the panic worsens. The thought that you'd have to temporarily shut down the operations and bear a financial loss can be difficult to deal with. We understand that after a flood, you might want to re-enter your property and save the belongings that you can. However, there are a few safety measures you have to follow to safely re-enter your commercial property after a flood.
Safety Measures to Take When Re-Entering Your Home After a Flood
The first thing to keep in mind is that you shouldn't re-enter your commercial property until the authorities advise that it is safe to do so. Next, make sure to turn off the main power from a dry location if you have standing water in your business property.
If the area with the power switch is flooded with water, call an electrician to do the job. Turning off the main power while standing in the water is something that you should avoid doing at all costs. Similarly,  don't use electric tools, appliances,  heating, pressure, or sewage system while standing in water.
If you want to turn the power on again or the main power switch was not turned off prior to flooding, don't return to the commercial property without having an electrician check your electrical system. Before turning on the power, a qualified electrician will have to clean, dry, and test the electrical system.
Another reason to have your electrical system checked by an electrician before returning to your commercial property is that your gas or electricity supplies on your property may be damaged. Turn off the main gas valve, open all windows, and leave your property immediately if you smell gas. Additionally, if you think gas is collected inside the building, don't smoke or use lighters or matches.
If your property was closed for several days, make sure to open the windows and doors for at least 30 minutes before you stay at the property for any length of time. Flooding can also cause mold growth. If the authorities inform you that your house has been infested by mold, you will have to call a home restoration company to get the house cleaned before you re-enter your commercial property.
Inhalation of mold spores can lead to an array of health concerns. If you or your employee suffers from asthma or have a weak immune system, the chances of mold affecting their health are quite high. In such cases, re-entering your commercial property is something that you shouldn't consider in the first place.
If there's standing water in your building, make sure to wear rubber boots, rubber gloves, and goggles while re-entering your commercial property after a flood. Floods can cause serious structural damages to the property. Therefore, before re-entering your commercial property, ensure building safety. While walking around the property, watch for holes in the floor, broken glass, etc.
Should You Take Care of Water Damage Restoration on Your Own?
The fact that you might not even know the level of problem you are dealing with is a reason enough for you not to take charge of water damage restoration. Apart from having the right safety equipment, it's also important to have experience and enough knowledge to take care of the unexpected.
Your commercial property must have costly equipment stored in it. Therefore, if you don't want to face more financial damages, it's better that you hire a home restoration company for the cleanup. From securing your property to preventing further damages and thoroughly drying out the property, home restoration companies do it all.
After a flood, within 24 to 48 hours molds can be formed. Constant exposure to mold is connected to serious illnesses. By hiring home restoration experts, you can make sure that mold infestation is also taken care of.
Looking for Home Restoration Experts in Virginia Peninsula?
While there are many home restoration companies you can consider, one company that is experienced, empathetic, knowledgeable, and reliable is the 911 Restoration of Virginia Peninsula. With advanced tools and sound knowledge of water damage, the home restoration experts can fix the repairs and make sure to return your property to its pre-loss condition.
The home restoration company offers a free visual inspection to property owners to evaluate the damages so that every ounce of water can be extracted from the property. Regardless of the reason behind water damage, you can expect the home restoration company to fix all repairs and provide support throughout the entire water damage restoration process.
Seeing your commercial property devasted can be really difficult to cope with. 911 Restoration of Virginia Peninsula ensures that the property doesn't stay looking like that. Regardless of how simple or complex the situation is, the home restoration experts will handle everything.
By hiring 911 Restoration of Virginia Peninsula, you can spare time to focus on your business's success while the professionals help your commercial property.